25 projects across 16 industries honoured for steward leadership excellence
The impact of the projects spans the Middle East and Asia Pacific. 
Press Release

21 November 2023
Singapore, 21 November 2023 – Stewardship Asia Centre (SAC), INSEAD Hoffmann Global Institute for Business and Society, WTW and The Straits Times unveiled the honourees of Steward Leadership 25 (SL25) 2023, a list of 25 projects that made significant positive impact on stakeholders, society, future generations and the environment.
The shortlisted 25 projects were submitted by for-profit organisations from diverse industries, including financial services, transportation, agribusiness, food and beverage, biotechnology and real estate. They were chosen for demonstrating resolute action to drive profitable growth by addressing the social and environmental challenges that threaten humanity, and all 25 hold equal merit.
The impact of these projects, which focused on environmental sustainability and uplifting communities and society, spans 14 countries in the Asia Pacific and the Middle East.
"SAC and its partners are encouraged to see the SL25 initiative gaining traction across Asia Pacific and beyond. It takes more than just rules, incentives and reporting to bring about transformational change for the planet and humanity. We hope that these 25 will inspire others worldwide," said Mr Rajeev Peshawaria, CEO of SAC.
The 25 were honoured at the Steward Leadership Summit held at the Shangri-La Hotel in Singapore on 21 November. This annual event was organised by SAC to highlight the importance of steward leadership. Some 400 participants from about 20 countries attended the event.
"Sustainability is a journey that requires stewardship from the top and needs to be incorporated into business strategy so that companies can grow well by doing good. It is reassuring to see the SL25 list consisting of a wide range of companies across different industries from social enterprises and SMEs to large corporations and MNCs," said Dr Veerathai Santiprabhob, Chairman of the Executive Board, Mae Fah Luang Foundation, who unveiled the inaugural list at the Steward Leadership Summit. "This year's SL25 companies clearly demonstrate their sustainability stewardship and commitments through their business practice and impactful projects," said Dr Santiprabhob, who is also a member of the SL25 judging committee.
This year's Steward Leadership Summit looks at the realities of keeping sustainability sustainable amid turbulent times. From the pandemic to geopolitical friction and a possible global economic slowdown, successive shocks have elevated uncertainty. While businesses navigate the volatile and ever-shifting landscape, the tension between profit and purpose has never been greater.
In his keynote address, Mr Dilhan Pillay Sandrasegara, Executive Director and CEO of Temasek Holdings, spoke about navigating stewardship and profit against a volatile environment.
Amid inflation and trade tensions, Professor Ilian Mihov, Former Dean of INSEAD and Professor of Economics, Visiting Scholar, Stanford University Graduate School of Business, explored the need for innovative problem-solving and creative resilience to propel long-term economic transformation to benefit both businesses and society.
His keynote was followed by a panel discussion: "Leading a Sustainable Future in Asia." Ms Khim Yin Poh, Global Lead Lifebuoy at Unilever, Ms Sandra Suppa, Head of Corporate Communications at Faber-Castell AG, and Dr Lucita Jasmin, Director for Sustainability & External Affairs from APRIL Group, explored the complexity of ESG and its application and their perspective on driving sustainability. The session was moderated by Mr Shai Ganu, Managing Director and Global Leader for Executive Compensation and Governance at WTW.
Innovation and design thinking have become critical strategies as businesses come under pressure to marry profit and purpose. PepsiCo's first-ever Chief Design Officer, Mr Mauro Porcini, discussed the culture shift needed towards a human-centred approach to brand building and innovation that can address today's evolving sustainability challenges. He stressed that the key to real, world-changing innovation is to create personal and social value first and financial and economic value afterwards.
As artificial intelligence-driven technologies transform work, questions have been raised about the ethical use of these tools. Dr Christine Chow, Board Member of the International Corporate Governance Network, Ms Ilaria Chan, Chairperson at Tech for Good Institute, and Dr Jasmine Begum, Regional Director, Legal & Government Affairs at Microsoft ASEAN & New Markets talked about "Navigating the Perils, Promises, and Risks of AI and Tech." Mr Jaime Ho, Editor of The Straits Times, SPH Media, moderated this panel.
With steward leadership at its core, Mr Chavalit Frederick Tsao, Chairman and a fourth-generation family member of IMC Pan Asia Alliance Group, talked about the values that enabled the company to build a rich legacy centred on positive impact for its business, society and the environment.
The SL25 projects and their companies (in alphabetical order) are:
Project
Organisation
Industry
Category
Impact geography
1
Leveraging edtech for inclusion and digital literacy
Advanced Info Service Plc
Telecommunications Services
Large Company
Thailand
2
Restoring tropical forests and biodiversity
APRIL International Enterprise
Manufacturing
Large Company
Indonesia
3
Fostering equity and resilience for marginalised communities
Bettr Barista Pte Ltd
Food and beverage
Social Enterprise
Singapore
4
Enabling carbon reduction by cultivating algae
Chyau Bio Technologies Pvt Ltd
Environmental Sustainability
Social Enterprise
Nepal
5
Improving rural health with cookstoves that cut emissions
C-Quest Capital LLC
Financial Services
Large Company
Cambodia
6
Upskilling communities to bridge the digital divide
DBS Bank
Financial Services
Large Company
Singapore
7
Converting construction waste to build homes
Eather Group Pty Ltd
Transportation
SME
Australia
8
Propagating native tree species through geothermal energy
Energy Development Corporation
Energy
Large Company
Philippines
9
Driving employment for youth with special education needs
Inclus Pte Ltd
Commercial and professional services
Social Enterprise
Singapore
10
Tackling malnourishment and food waste through whole foods
landlink Co., Ltd
Household and personal products
SME
Japan
11
Creating health equity in rural and semi-urban areas
Last Mile Care Private Limited
Healthcare equipment and services
Social Enterprise
India
12
Producing organic food using wool-based fertiliser
Monpellets LLC
Agribusiness
SME
Mongolia
13
Tailoring investment solutions for net zero
OCBC
Financial services
Large Company

Singapore, Malaysia, Indonesia,

Greater China

14
Championing inclusion for the disadvantaged via vocational training
Project Dignity Pte Ltd
Food and beverage
Social Enterprise
Singapore
15
Uplifting village communities by regenerative farming
PT Industri Jamu Dan Farmasi Sido Muncul Tbk
Pharmaceuticals, Biotechnology and Life Sciences
Large Company
Indonesia
16
Protecting marine ecosystems and coastal communities
PTT Exploration and Production Public Company Limited
Energy
Large Company
Thailand
17
Unlocking healthcare access in underserved communities
reach52 PTE Ltd
Healthcare Equipment and Services
Social Enterprise
India, Indonesia, Myanmar, Philippines
18
Developing a zero-waste society to empower underserved communities
ReFuse SARL
Waste management
Social Enterprise
Lebanon
19
Providing safe sanitation in sub-tropical villages
Safe Water Gardens (SWG) Pte Ltd
Water and sanitation
Social Enterprise
Indonesia and Nepal
20
Empowering vulnerable communities to thrive in the digital economy
Singtel Group
Telecommunications services
Large company
Singapore
21
Building resilience in infrastructure design
SM Prime Holdings
Real estate
Large Company
Philippines
22
Moving people, enhancing lifestyles through inclusive service delivery
SMRT Corporation Ltd
Transportation
Large Company
Singapore
23
Integrating data analysis to halve food waste
Sodexo Singapore Pte Ltd
Food and beverage
Large Company
Singapore
24
Empowering elderly and kidney patients through employment
Tea ideas Pte Ltd
Food and beverage
Social Enterprise
Singapore
25
Manufacturing electric jeepneys to combat pollution
Tojo Motors Corp
Automobile and components
SME
Philippines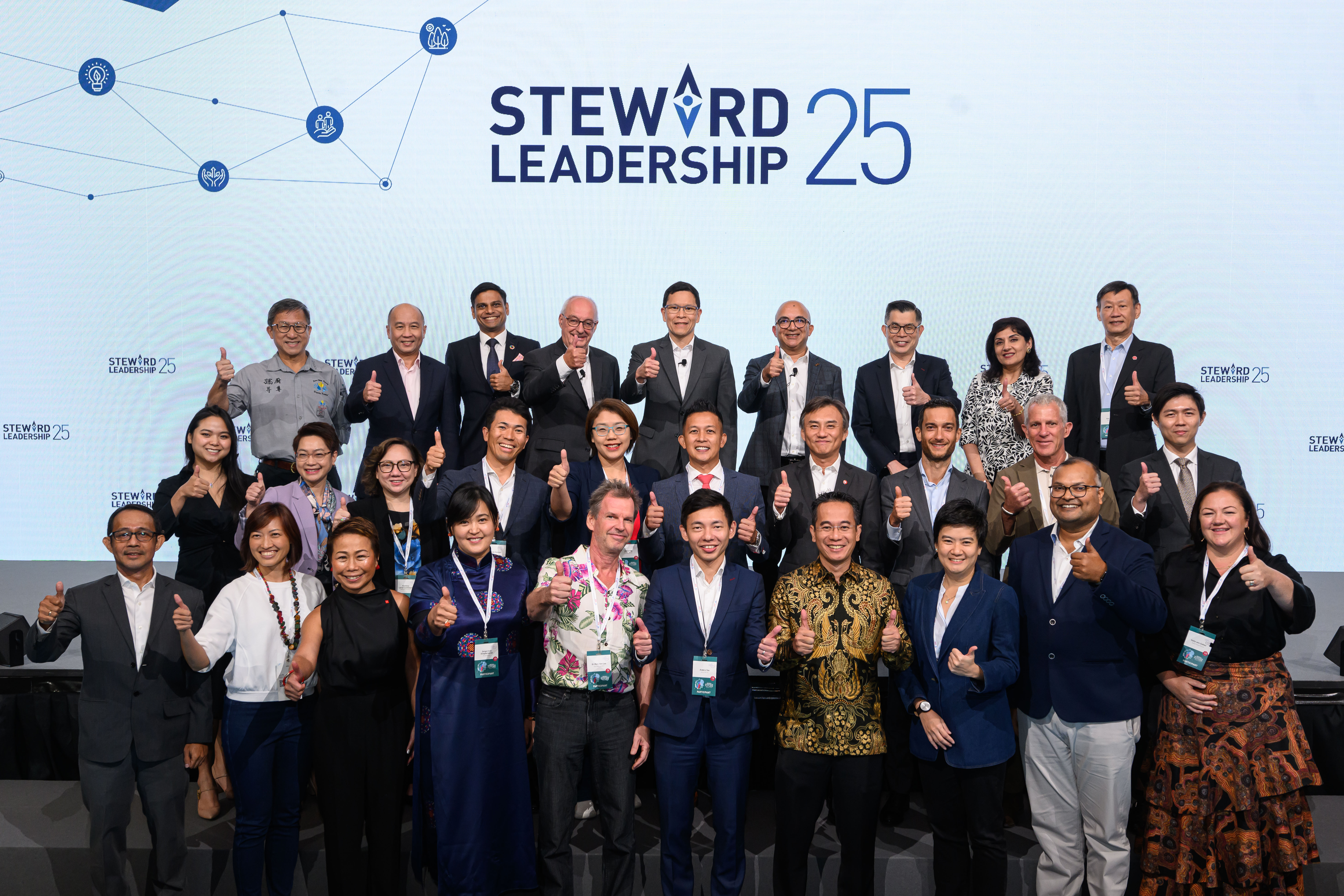 Notes to editors:
For more information about the 25 projects, click here or scan this QR code.
About Steward Leadership 25
Jointly curated by Stewardship Asia Centre, the INSEAD Hoffmann Global Institute for Business and Society, WTW and The Straits Times, Steward Leadership 25 (SL25) is an annual listing of 25 projects by for-profit organisations that showcase steward leadership excellence within the Asia-Pacific region. Projects that are included in SL25 are part of the organisation's core strategy and purpose and strive to have a significant positive effect on stakeholders, society, future generations, or the environment.
Inclusion to the SL25 list is based on the particular project(s) described in the submission form. SL25 is not intended as a blanket endorsement of the organisation as a whole. The organisations are responsible for the truthfulness, accuracy and completeness of their submission, which are not guaranteed by the SL25 partners.
Media contacts:
Sandhya Haridas
Stewardship Asia Centre
Email: [email protected]
Tel: +65 8328 0641
Ang Bee Lin
Stewardship Asia Centre
Email: [email protected]
Tel: +65 9238 8418
Florence Fang
Flame Communications
Tel: +65 9276 9231
Email: [email protected]